Being let go from my job allowed me to bring home the fannish items I had been keeping in my office. They are now merged back into my overall collection. Here's a list of ten of those items. Welcome home, little ones! I missed you!
10 Fandom Items From My Office
1. Hawkeye FUNKO POP- My favorite Avenger was a wonderful present from a friend. I have an older series Hawkeye POP, and I didn't want him to face an identity crisis seeing his Endgame Part 2 self, so I took him to work to guard my computer.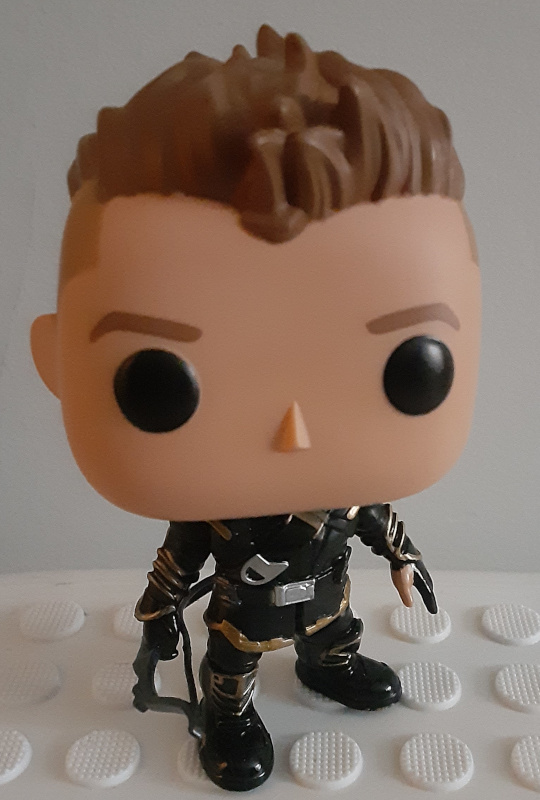 2. K-9 and the TARDIS- I purchased this rolling TARDIS from ThinkGeek long, long ago in addition to a red Dalek. My user icon at work was K-9, so I bought this little tin dog at a museum gift shop and took him to work as well. They can all roll along together at home now.
3. Avengers Cup- I used this Avengers cup to hold my pens, highlighters, and scissors. It features Cap's team from Civil War. I also have a little Vikor from Yuri on Ice who hangs off the side.
4. Marauder's Map Canvas- My friend gave me this gorgeous canvas for Christmas one year. The rule at work at the time we moved into our new space was that the art on our walls had to be literary in nature, so I got away with displaying this.
5. Winnie-the-Pooh Figures- Eeyore is my spirit animal, and the little baby Eeyore always makes me smile. I have had him in my office almost from the beginning. I found the other set of figures at the Dollar Store. They have all now officially joined my collection in my display cabinet.
6. Thwomp- I bought this moose at a Supernatural convention to support the Attitudes in Reverse charity. The poor guy looks like he got hit over the head, hence his name. Sometimes he would sit on my shoulder while I worked at my standing desk. He acquired the bow during the 2019 holiday season when I brought in lots of craft items so coworkers could decorate the office.
7. Big Hero 6 Cup- I bought two of these cups at the Dollar store, one for home and one for the office. I used it frequently at home until it finally began taking in water and broke. This one from my office is virtually new, so I've got it back in my life again! I'm not sure how I fit it into my cupboard, though…
8. Miscellaneous Figures- It's an interesting mixture: Batman from DC; Wolverine, Iron Man, and Captain America from Marvel (my OT3), tiny Spiderman from Marvel, and Mark Twain. Yup!
9. Harry Potter and the Prisoner of Azkaban Trio FUNKO POPs- PoA is my favorite Harry Potter book, and I fell in love with this set of figures. Harry with his map, Ron with Scabbers, and Hermione with a time turner sat on a shelf in my hutch right across the room from number 4 on this list.
10. Washington Capitals Parade Poster- Having picked this up the morning of the 2018 championship parade, I had this up above my bulletin board. It was wonderful to relive that moment every time I turned around and saw it.