I love time travel in my fiction (heck, I'd take it in my real life as well if I could manage it). But what I love the most are time loops. I love knowing what to expect, the humor that comes from repetition, and the clever differences from loop to loop. I love seeing the loops finally broken. As Groundhog Day is less than a week away and as I recently watched Source Code for the first time, what better subject matter for this week's list?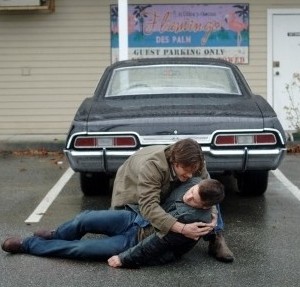 Top Ten Time Loops
Groundhog Day- The movie has to be the first one on my list, of course! I usually rewatch it every year on or around Groundhog Day.
Blood Ties "5:55"- It's honestly been a while since I saw this episode, but it still stuck in my memory. Poor Vicki. Plus, it's fun to have a character trying to insist to everyone else that they all died… when you're also dealing with a vampire character who is, technically, already dead.
X-Files "Monday"- a day where everything goes wrong… and then it happens all over again! Not the most paranormal of episodes, but that was fine by me.
Day Break- I'd watch Taye Diggs in anything, but I really enjoyed watching this during its run on TV (I bought it on DVD too). It's a clever concept to turn into a show, building more and more on every day.
Buffy the Vampire Slayer "Life Serial"- It's only a portion of the episode, but I still love watching Buffy try everything in the world to satisfy a customer at the Magic Box.
Eureka "I Do Over"- Hey, it's Eureka, so the time loop concept had the potential to be super silly. Instead, the loop breaks with the one thing I never expected.
Charmed "Déjà Vu All Over Again"- It's interesting that many of these time loops involve significant deaths (I guess if you're going to do a time loop show, might as well do something big and kill off some significant characters for shock value; they'll be back when the loop resets). But several of these time loops are stopped finally because of a death.
Supernatural "Mystery Spot"- This episode came at the exact right moment in the series. Not only is there a reemergence of the Trickster, but Sam's already facing a future without Dean… and he has to see what that's like by losing Dean every day. We see what it turns him into in an episode that is equal parts hilarious and seriously deep. Plus, it's Asia!
Stargate SG-1 "Window of Opportunity"- Another great example of hilarious and tragic rolled into one, with so many great moments from a certain kiss to Teal'c with a thermometer to golf to Jack's incredibly moving speech at the end. And even though he's not one of the characters who knows it's happening from loop to loop, Daniel still has some fantastic moments.
Star Trek: the Next Generation "Cause and Effect"- My absolute favorite episode of Star Trek TNG tops off my list. Though I adore repeating lines along with every loop, I also really love that none of the characters fully remember things from loop to loop, like in many of these types of stories. Yet, some of them get a sense from loop to loop that something is happening.
Honorable Mention Goes To…. Captains Jack & John from Torchwood being stuck in a two-week time loop for five years. I would totally watch that series!